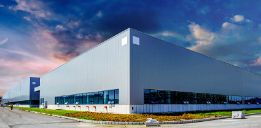 Area - 800.0 SqMt., for Sale in Sector 59, Noida   Property Type - Industrial
Selected Properties
Industrial Properties in Noida
The bustling city of Noida is one of the fastest-growing cities in Uttar Pradesh. The city is growing at a really fast pace in terms of infrastructure and investments. In the last 2 decades, there has been a gradual rise in industrial investments in the area. Noida is well connected to the different parts of the state through wide well-maintained roads, the great connectivity is a major catalyst in making Noida the ideal city for setting up industries. The city is situated in close proximity to the cities like Ghaziabad, Faridabad, Gurgaon, and Delhi. This makes the supply and delivery of raw materials and finished goods very easy.

For people willing to invest in industrial buildings, the industrial buildings for sale in sector 59 Noida are the best option. These buildings can be used for the assembly, fabrication, and processing of materials and goods. The industrial buildings in sector 59 Noida have their own advantages because of the easy availability of transportation mediums. The industrial property for sale in Noida sector 59 is also highly demanded because of the increased focus of the government in making it an industrial hub. 

Despite the availability of numerous industrial properties in sec 59 Noida, finding the right one that fits in your budget and serves the purpose is an uphill task. Hence to buy industrial property in Noida sector 59, the online portal of Buniyad is the best option. The website contains an array of properties that are suitable for everyone's demand. From industrial buildings in Noida to residential houses in Jor Bagh Delhi and other prominent locations, the portal has everything.
 
Direct Links
Useful links to search properties in Noida
SERVICES
BUY INDUSTRIAL PROPERTY
LEASE INDUSTRIAL PROPERTY
PRE LEASE INDUSTRIAL PROPERTY