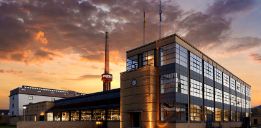 Area - 935.0 SqMt., for Sale in Sector 58, Noida   Property Type - Industrial
Selected Properties
Industrial Factory Properties In Sector 58 Noida
The modern city of Noida is growing rapidly in terms of infrastructure and other aspects. Noida has evolved into a city of dreams and it attracts a large number of people to invest in the city. With new businesses opening in the city every day, it has become an ideal hub for people to invest their hard-earned money. The city is located in closest proximity to the nation's capital Delhi and it works as an advantage in terms of transportation. Noida also has a well-maintained link of wide internal roads which help in the easy commute of people and transportation of raw and finished goods from one place to another. Availability of the workforce in Noida is one of the major reasons why a lot of people want to buy a factory in sector 58 Noida.

Noida has seen a sudden surge in the demand for industrial and factory spaces. The great connectivity of the area to other parts of the state and the NCT region plays a major role in it. The factory space in sector 58 Noida is one of the most demanded properties. These factories can be used to set up production plants as well as assembly units for various products. The factory space in sector 58 Noida is well connected to the city as it is located in close proximity to the metro. 

If you are looking for a factory for sale in sector 58 Noida, then the online portal of Buniyad is the place to look for. The website has a large number of properties that are valued for money and expect to give great returns in the future. Whether you are looking for an industrial property in Noida or you are willing to buy a residential house in Vasant Kunj Delhi, the portal has a solution for all your demands and needs.
Direct Links
Useful links to search properties in Noida
SERVICES
BUY INDUSTRIAL PROPERTY
LEASE INDUSTRIAL PROPERTY
PRE LEASE INDUSTRIAL PROPERTY