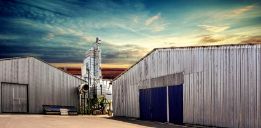 Area - 3870.0 SqMt., for Sale in Sector 8, Noida   Property Type - Industrial
Selected Properties
industrial Shed Properties Sector 8 in Noida
The modern city of Noida is an ideal example of development in north India. Noida is developing every day at an unprecedented pace in terms of infrastructure, IT industry, factories as well as commercial places. Its great connectivity to the nation's capital Delhi gives it an edge over other cities. It opens a great market for commodities that are manufactured in Noida and its neighbouring cities. This has excelled the industries in this area and has made it an investment paradise for industries. The rise in the number of industries has also led to a sudden surge in demand for sheds in Noida sector 8 and other prime locations.
The usability of sheds in industries.
For a streamlined flow of demand and supply of any product, the production of the commodities in a planned way is very important. In this process, the sheds play a very important role because of their varied usability. The sheds for sale in sector 8 Noida are highly beneficial in terms of setting up production lines and storage of finished goods and raw materials. Along with this, the industrial shed in sector 8 Noida can be used as a hub for the distribution of these goods to different marketplaces. 
How Beneficial It Is Invest sheds in Noida sector 8?
Noida sector 8 is a prime location in the city of Noida because of great connectivity. The availability of a cheaper workforce in the city also makes it ideal for industrialists to look for industrial sheds for sale in sector 8 Noida.
How can Buniyad help you in this search?
Buniyad has extensive experience in the real estate industry because of its decades-long experience. If you are planning to buy sheds in Noida sector 8 then Buniyad's online portal is an end to your search. Their team of real estate experts can help you in getting the property of your demand. Along with this, their team can also help you with the legal procedure in procuring the property that you are looking for.
Direct Links
Useful links to search properties in Noida
SERVICES
BUY INDUSTRIAL PROPERTY
LEASE INDUSTRIAL PROPERTY
PRE LEASE INDUSTRIAL PROPERTY