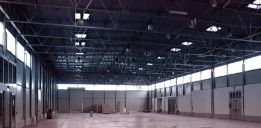 Area - 211.0 SqMt., for Sale in Sector 7, Noida   Property Type - Industrial
Selected Properties
industrial Shed Properties Sector 7 in Noida
When we talk about a city with the perfect balance between industrial land and residential areas, Noida definitely comes to our mind. The city is planned well according to the various needs of both individuals and industries. Noida has a huge landmass that can be used to set up factories and residential areas. This availability of land has led to the opening of a lot of factories and the
construction of residential apartments
and complexes. The great connectivity of Noida to the other neighboring cities makes it an ideal location for setting up industrial sheds and other warehousing purposes.
The industrial shed in sector 7 Noida can be used as a warehouse to store goods and in supplying these goods to the nearby cities. The huge open area around the warehouses helps in the easy loading and unloading of trucks. The sheds in Noida sector 7 are highly demanded because of the great connectivity to Delhi by the DND Expressway. These industrial sheds for sale in sector 7 Noida are usually designed keeping in mind the height of trucks that carry the goods. The easy accessibility and entrance make sheds for sale in sector 7 Noida highly demanded. Along with these benefits, the broad roads, and other infrastructural facilities make Noida one of the best locations to set up a warehouse.
If you are planning to buy a shed in Noida sector 7, then the online portal of Buniyad is the best place. We have listed a number of properties that include industrial buildings, industrial sheds, and other real estate options which are value for money. Along with this, our team of real estate experts is proactive in helping our customers to get the best properties. 
Direct Links
Useful links to search properties in Noida
SERVICES
BUY INDUSTRIAL PROPERTY
LEASE INDUSTRIAL PROPERTY
PRE LEASE INDUSTRIAL PROPERTY