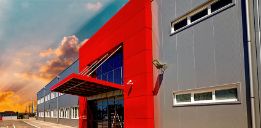 Area - 12000.0 SqMt., for Sale in Sector 81, Noida   Property Type - Industrial
Selected Properties
industrial Properties in Noida
Uttar Pradesh's Noida has listed itself among the top investment destinations not only in India but in the entire world. The city is home to innumerable firms and companies of global repute. Notching heights in terms of development, the city has done tremendously well in bettering its basic facilities, and to add to it, it has nicely taken care of the ease of doing business parameter. Due to all these facts, investments made in Noida are a guarantee of success. The city is a perfect blend of urban setup and greenery available in abundance. Investors keep the city at the top of their priority and rarely let go of an opportunity to invest here. 

Which property is available? 
The deal under consideration is of a factory in sector 81 Noida. The factory space in sector 81 Noida has been built under expert supervision and comes with the option of redesigning and remodelling as per the requirement of the investor. Sector 81 Noida has got one of the best transportation with a metro facility just minutes away from the factory for sale in sector 81 Noida. Not only this, but the sector also has a wide network of world-class roads that remain congestion-free. 

How to grab the deal of factory in sector 81 Noida?
If you intend to make the best investment choice of your life, you are skimming through the most suitable write-up. Buniyad which has an impeccable track record in the real estate sector has listed properties to help you buy a factory in sector 81 Noida. 

About Buniyad
We here at Buniyad are assisted by a brilliant team of experts who have got tremendous exposure to the sector. Buniyad can also help you in getting the best commercial properties in Noida. We also provide assistance in documentation and other processes if you want to move ahead with the deal. 
 
 
Direct Links
Useful links to search properties in Noida
SERVICES
BUY INDUSTRIAL PROPERTY
LEASE INDUSTRIAL PROPERTY
PRE LEASE INDUSTRIAL PROPERTY