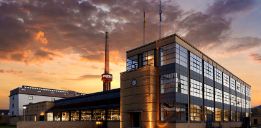 Area - 316.0 SqMt., for Sale in Sector 6, Noida   Property Type - Industrial
Selected Properties
industrial Factory Properties Sector 6 in Noida
Noida is a bustling city in the state of Uttar Pradesh. The city is surrounded by a lot of major cities like Delhi Gurgaon, Faridabad and is well connected to Greater Noida which is its newer counterpart. The city has a planned distribution of residential land, the green belt, and industrial land which makes it an ideal place to set up factories and production lines. The planned development of the city has made people look for factories in the area. Factories in Noida have their own benefits like great connectivity to the nation's capital for easy transportation and a huge market to sell. This has given rise to the construction of factories in sector 6 Noida.
The huge industrial landmass of the city can lead to the construction of humongous factories. Availability of industrial land has also led to a surge in the demand for factory space in sector 6 Noida. The factory space gives the owners the freedom to build the factory as per their requirements and get the maximum output from it. This freedom lures people to buy factories in sector 6 Noida and its neighboring localities. There is also an enormous number of pre-constructed factories for sale in sector 6 Noida. These factories reduce the hassle of construction from scratch and can be brought into use faster.
The online portal of Buniyad has a number of factory properties listed which can make your search easier. We always strive to give our buyers a hassle-free experience of
investing in real estate
with our extended support. Our real estate experts are always ready to help the buyers with the legal procedure and other assistance that they might need. In simple words, we are the modern solution for all the real estate requirements. 
Direct Links
Useful links to search properties in Noida
SERVICES
BUY INDUSTRIAL PROPERTY
LEASE INDUSTRIAL PROPERTY
PRE LEASE INDUSTRIAL PROPERTY