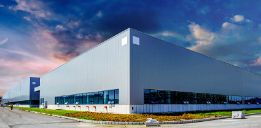 Area - 269.0 SqMt., for Sale in Sector 7, Noida   Property Type - Industrial
Selected Properties
industrial Factory Properties Sector 7 in Noida
The fast-developing city of UP, Noida has emerged as a major residential and industrial area in the Delhi- NCT region. Noida has experienced tremendous growth in terms of residential infrastructure, factories, malls, and other basic needs of every individual. The city has lush green areas which curb pollution and give a healthy lifestyle to its citizens. The great connectivity of Noida to the nation's capital and other parts of the NCT region makes it an ideal place to invest money in the industrial sector. Factories in sector 7 Noida is one of the most demanded properties in the area. These factories are well connected to the different cities which help in easy transportation of finished goods as well as raw materials.
The factory space in sector 7 Noida is highly demanded due to a number of reasons, which include great connectivity, availability of large amounts of the land, affordable workforce for running the factories, and many more. These advantages help in the smooth functioning of factories as well as transportation. This attracts a lot of people to look for factories for sale in sector 7 Noida. In the last 2 decades, the number of factories has skyrocketed because of the support from the government in making Noida the
commercial hub of Uttar Pradesh
.
Buniyad has a team of real estate experts that cover all types of real estate requirements. So whether you are willing to buy a factory in sector 7 Noida or a
residential house in Delhi
, we have got you covered. Our team is working round the clock to list the best properties for all our customers. Along with listing these properties, our team can also help you with the documentation and other procedures required in buying the property of your choice. 
Direct Links
Useful links to search properties in Noida
SERVICES
BUY INDUSTRIAL PROPERTY
LEASE INDUSTRIAL PROPERTY
PRE LEASE INDUSTRIAL PROPERTY