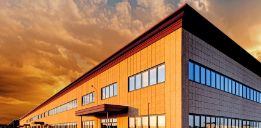 Area - 450.0 SqMt., for Sale in Sector 80, Noida   Property Type - Industrial
Selected Properties
industrial Factory Properties Sector 80 in Noida
Very few cities in India have grown to the stature that Noida has grown up to in recent decades. The city has ramped up its facilities and thus has garnered investment from all across the globe. Noida is a convergence of people from almost all parts of India. It not only contributes to the city's diversity but also makes sure that all the essential ingredients of initiating a business are available here. From a sharp business mind to a dedicated group of the workforce, you name it and you will get here in Noida. 
 
What makes Noida special?
Noida is the best city to invest in Uttar Pradesh, and obviously, one of the best in the Indian subcontinent to consider for investment. The city shares proximity to India's capital New Delhi, and thus has an edge over other metro cities in India. If you plan to buy a residence in Delhi and open a business in Noida, the offer that we have got for you is the best. 
 
Why is the deal of factory space in sector 80 Noida the best? 
The current deal under consideration is of a factory in sector 80 Noida. The deal of factory space in sector 80 Noida is the best because it gives you the opportunity to modify and design the space available as per your own requirement. 
 
How to reach out to the property?
If you intend to buy a property in National Capital Region no option can be better than Buniyad. We here at Buniyad have got a very versatile group of experts who work day in, day out to bring the best of properties for its visitors. Factory for sale in sector 80 Noida, our team has also picked the best residential properties in Gurugram. If you are interested to buy a factory in sector 80 Noida, Buniyad is the most trusted option for you. 
 
Direct Links
Useful links to search properties in Noida
SERVICES
BUY INDUSTRIAL PROPERTY
LEASE INDUSTRIAL PROPERTY
PRE LEASE INDUSTRIAL PROPERTY