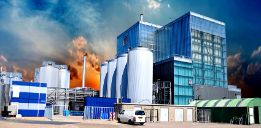 Area - 800.0 SqMt., for Sale in Sector 8, Noida   Property Type - Industrial
Selected Properties
industrial Properties in Noida
The emergence of Noida as one of the prime locations for business activities is a well-established fact. The city has got tremendous potential and it houses world-class facilities. A commoner to a business tycoon, almost everyone, belonging to varied strata of society, can explore opportunities to make money and lead a comfortable life by making investments in a city like Noida. Among the business hotspots in Noida, Sector 8 of the city stands out as it is close to the Delhi-Noida border. It becomes a go-to destination for anyone aiming to make an investment in factory space in Sector 8. 
Nothing can be more profitable than owning a factory space in Sector 8 Noida as the location has got seamless road connectivity while the metro adds features on the cap. The area has got a tremendous flow of investment from across the whole Indian subcontinent. The factory for sale in Sector 8 Noida is spacious and any investment made here is bound to yield benefits, and that too manifold. The area has already got numerous residential projects developing around and the prospects of a profitable factory set up are very much on cards. Other aspects such as cleanliness, safety, parking, public transport are also at par with New Delhi.
Our team has done intensive ground research to find out the best factory spaces in Noida as well as various
residential bungalows and other residential properties in Delhi
. The list of properties that we have prepared is the result of sheer research and study on the part of professionals in our team. With investments pouring down from all over the country, buying a factory in Sector 8 Noida asks for some serious consideration. 
Direct Links
Useful links to search properties in Noida
SERVICES
BUY INDUSTRIAL PROPERTY
LEASE INDUSTRIAL PROPERTY
PRE LEASE INDUSTRIAL PROPERTY