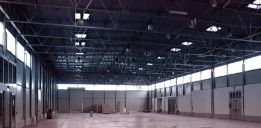 Area - 800.0 SqMt., for Sale in Sector 2, Noida   Property Type - Industrial
Selected Properties
industrial Shed Properties Sector 2 in Noida
Noida is one of the newest and fastest developing cities of the Delhi NCT region. The city is well connected to Delhi, Faridabad, Ghaziabad,
Gurgaon
, Agra, and many other cities by roadways. It makes the transportation of goods and commodities very easy. In the last few years, the development of roads like the Agra expressway and others has cut down the commute time by many folds. This has led to the rise in demand for sheds in Noida sector 2 and other well-connected areas of the city.
With the boom and growth in the e-commerce sector, the demand for industrial sheds in sector 2 Noida has increased drastically. It makes the storage and the transportation of goods from one city to another very easy. A large number of different industries are also willing to buy shed in Noida sector 2 for the storage of goods. These sheds are very cost-effective and are ideal for warehousing purposes and godowns. Having these sheds in Noida has a major advantage as they can be used as fulfillment centers in order to have hassle-free and easy shipping of products to the neighboring cities. 
Buniyad is a well-known name in the real estate industry, and it enables us to find the best-suited properties for all our clients. Our online portal has a wide range of sheds for sale in sector 2 Noida listed on our online portal at really genuine prices. If you are looking for industrial sheds for sale in sector 2 Noida to enhance your business, then our portal is where your search ends. We have a team of honed professionals who are always on their tiptoes to make your buying experience smooth. 
Direct Links
Useful links to search properties in Noida
SERVICES
BUY INDUSTRIAL PROPERTY
LEASE INDUSTRIAL PROPERTY
PRE LEASE INDUSTRIAL PROPERTY