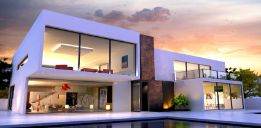 Area - 375.0 SqYd., for Sale in Jor Bagh, Delhi   Property Type - Residential
Selected Properties
residential Bungalow/Villa Properties Jor Bagh in Delhi
Jor Bagh is one of the most prime and
posh localities of south Delhi
. The area houses a large number of affluent businessmen and industrialists. Located near the intersection of Aurobindo Marg and Lodi road, the area definitely has great connectivity to the different parts of the city. The location of the Jor Bagh metro station at a walking distance from the neighborhood eases the connectivity too. The second to none connectivity options make this area an ideal residence as well as an investment option.
Jor Bagh is one of the oldest planned localities of Delhi which dates back to the pre-independence era. This definitely makes it a great option for people looking for houses for sale in Jor Bagh. The availability of independent houses for sale in Jor Bagh Delhi makes it an ideal choice for people who can not compromise with the class. The rich history also intrigues people from different parts of the city to buy bungalows in Jor Bagh Delhi. 
The architecture of houses in Jor Bagh has its own rustic feel to it which makes it really aesthetic. The villas for sale in Jor Bagh boast about this architecture and these masterpieces are the first preference for people who like to live in an architectural classic. Finding the right property in this highly demanded locality is an uphill task. To simplify the search of buying a luxury villa in Jor Bagh Delhi, Buniyad has listed a number of properties that are undeniably a steal deal. Whether you are looking for bungalows, villas, or Kothi for sale in Jor Bagh Delhi Buniyad is your one-stop-shop.
Direct Links
Useful links to search properties in Delhi
SERVICES
BUY RESIDENTIAL PROPERTY
LEASE RESIDENTIAL PROPERTY
PRE LEASE RESIDENTIAL PROPERTY