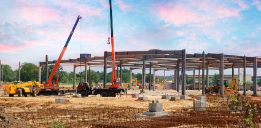 Area - 800.0 SqMt., for Sale in Sector 5, Noida   Property Type - Industrial
Selected Properties
Industrial Properties In Sector 5 Noida
Noida is the fastest growing modern city of Uttar Pradesh and northern India. The city is experiencing multidirectional development in terms of lifestyle, infrastructure, educational hub, and industries. All these elements in the right proportion have made the existence of the city worthwhile and fascinating. In the industrial sector, the city is progressing every day and is setting examples for other neighboring cities. Noida is well connected to the nation's capital Delhi, and it has benefited majorly in terms of growth, transportation of commodities, and availability of skilled individuals to work in the newly set up industries.
A large part of the land in Noida is still unused and it makes it an ideal place for the construction of an industrial paradise. This availability of industrial property for sale in Noida sector 5 has attracted a lot of industrial giants to buy industrial property in Noida sector 5 and other nearby localities. The industrial buildings in this area are the perfect infrastructure to set up these factories and the required offices along with them. The industrial building for sale in sector 5 Noida solves the problem of production as well as the management. Owning an industrial building in sector 5 Noida helps in streamlining the various processes involved in the smooth functioning of the industry.
We at Buniyad pay keen attention to the requirement, availability, and needs of our valuable customers. This has helped us in creating an online portal that can serve all the real estate requirements of everyone. Whether you are looking for industrial property in sec 5 Noida, or a
residential project in the city's
heart, our online portal has it all. 
Direct Links
Useful links to search properties in Noida
SERVICES
BUY INDUSTRIAL PROPERTY
LEASE INDUSTRIAL PROPERTY
PRE LEASE INDUSTRIAL PROPERTY