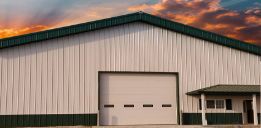 Area - 23000.0 SqMt., for Sale in Sector 87, Noida   Property Type - Industrial
Selected Properties
industrial Shed Properties Sector 87 in Noida
With a ramped-up investment from both public and private sectors, Uttar Pradesh's Noida has embarked upon a journey of development and unstoppable progress. Investors are lured into the temptation to invest here due to the notching up of real estate. With the growth of various startups in this area, it has become a business hotspot of India. Buniyad, your most trusted real estate partner, has listed industrial shed for sale in sector 87 Noida. These sheds are multi usable properties and with the modification and redesigning facility it comes up with, the deal of industrial shed in sector 87 Noida becomes worth grabbing.

Noida- A Business Hotspot
Noida is a convergence of people belonging to various backgrounds and almost every corner of India finds a representation in the city. This ultimately makes Noida very rich with an abundance of the workforce and prospective investors with business acumen. The city houses the best kind of educational and medical facilities and along with these, you will find India's best shopping complexes here.

Salient Features off shed in Noida sector 87
The property that's being discussed is located in sector 87, Noida. This particular sector has got huge growth potential. With the kind of transportation services and other business-friendly facilities it has, the deal of shed in Noida sector 87 is destined to be one you would have cracked in your business stint. The shed for sale in sector 87 Noida offers a plethora of solutions ranging from storage to customizable and adaptable features.

How Buniyad Is The Best Option?
Buniyad is a well-known real estate website with a track record that gets reckoning in the entire country. Buniyad has also listed residential properties for you in Jor Bagh Delhi. If you are interested in buying a shed in Noida sector 87, pay a visit to our website.
Direct Links
Useful links to search properties in Noida
SERVICES
BUY INDUSTRIAL PROPERTY
LEASE INDUSTRIAL PROPERTY
PRE LEASE INDUSTRIAL PROPERTY