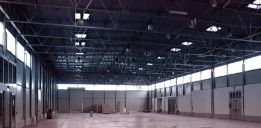 Area - 212.0 SqMt., for Sale in Sector 6, Noida   Property Type - Industrial
Selected Properties
industrial Properties in Noida
The modern city of Noida is embellished with skyscrapers, top-notch industries, wide and well-maintained expressways, and many more infrastructural advancements. Noida has become an industrial hub, a residential paradise, and a corporate park after its rapid development. The city has a great potential to overtake Delhi in terms of development. This development is possible because of the constant investment of various corporate giants in the area. Its connectivity to the nation's capital Delhi has also made it an ideal place for investment. This also makes it an ideal city that can become a major hub to propel the distribution of goods to different parts of the country. 
Noida has a lot of lands that can be used for industrial as well as other purposes. The major usability of this land can be in the form of industrial sheds. There are already a large number of sheds in Noida sector 6 that can be used for warehousing and other purposes. These sheds for sale in sector 6 Noida can also be used to set up production and packaging lines for various industries. The usability of these sheds has made a lot of people buy sheds in Noida sector 6. The industrial shed in sector 6 Noida can also be used as a
warehouse
by the e-commerce and the courier distribution companies for proper distribution throughout north India. 
If you are looking for an industrial shed for sale in sector 6 Noida, then your search ends here. Buniyad is a leading name in the real estate industry which has its head office in Noida itself. It has given us a better reach and ability to find what is best for our buyers. Our team of real estate experts helps in providing you with the best end-to-end services while buying real estate. 
Direct Links
Useful links to search properties in Noida
SERVICES
BUY INDUSTRIAL PROPERTY
LEASE INDUSTRIAL PROPERTY
PRE LEASE INDUSTRIAL PROPERTY