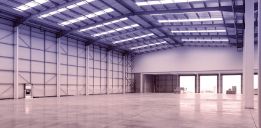 Area - 878.0 SqMt., for Sale in Sector 4, Noida   Property Type - Industrial
Selected Properties
industrial Properties in Noida
The fastest growing and developing city of Uttar Pradesh Noida has emerged as the ideal location for setting up industries, factories, and other industrial uses. The connectivity to Delhi, availability of land, labor, and other things have definitely benefited the city in many aspects. The corporate giants also recognize the potential of the city and have been one of the first few investors that led to shaping the city for what it is today. Along with setting up factories and production lines, the city is ideal for setting up a distribution hub for different kinds of commodities or products because of its great connectivity and being surrounded by multiple cities.
To set up these distribution hubs, the most ideal infrastructure is the sheds. These sheds can be used to build warehouse, production, or packaging hubs for various industries. The sudden surge in demand has led to the increase in sales of the shed in Noida sector 4 and other neighboring localities. The industrial sheds in sector 4 are located in localities that are well connected to the neighboring cities through road and are affordable. These benefits attract a lot of businesses to buy shed in Noida sector 4 and use it as a warehouse to regulate the supply chain. The sheds for sale in sector 4 Noida are also ideal for the courier companies to set up their storage and sorting facility. This can help in easy shipping of orders to cities like New Delhi, Ghaziabad,
Greater Noida
, Faridabad,
Gurgaon
, and Agra.
If you are looking for an industrial shed for sale in sector 4 Noida, then Buniyad is the right place to look for. Our online portal is crafted according to various real estate needs that can help everyone with their demands. 
Direct Links
Useful links to search properties in Noida
SERVICES
BUY INDUSTRIAL PROPERTY
LEASE INDUSTRIAL PROPERTY
PRE LEASE INDUSTRIAL PROPERTY