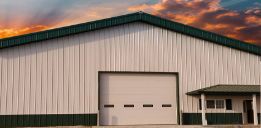 Area - 23000.0 SqMt., for Sale in Sector 87, Noida   Property Type - Industrial
Selected Properties
Industrial Properties In Sector 87 Noida
Noida is the city that has surpassed almost every Indian city in terms of financial and economic prosperity. These advancements have made it an investor's paradise in terms of real estate. This city in Uttar Pradesh has attracted investments from almost all the top business and financial firms in the world. Due to its proximity to New Delhi and other areas of the National Capital Region well under its reach, Noida enjoys an edge over other Indian cities.

What About Facilities In Noida?
Every seasoned and well-aware investor keeps Noida as the top destination to consider for investment and this is because the city has achieved multi-directional development. The local authorities have meticulously taken care of every minute thing and aspects like cleanliness, safety, and pollution curbing exercises have seen a notable upsurge in recent decades.

What's The Deal About?
Currently, we have come up with an industrial building for sale in sector 87 Noida. Sector 87 itself is a mini Noida is self-sufficient in terms of almost all the modern facilities. The sector has got the best medical, educational, and hospitality services. 

How Beneficial Can Be The Deal Of industrial Property in sector 87 Noida?
Replete with greenery, sector 87 is a blend of the urban setting and natural feeling, and your investment in industrial Property in sector 87 Noida is bound to yield you benefits. If you are interested to buy industrial property in Noida sector 87, keep your faith reposed in Buniyad be assured of unimaginable returns.

About Buniyad
Buniyad, along with the industrial property for sale in Noida sector 87, has also got the best residential properties in Golf Link Delhi. If you seek to make a wise investment in an industrial building in sector 87 Noida, Buniyad is here to help with all its expertise in the real estate sector.
 
Direct Links
Useful links to search properties in Noida
SERVICES
BUY INDUSTRIAL PROPERTY
LEASE INDUSTRIAL PROPERTY
PRE LEASE INDUSTRIAL PROPERTY