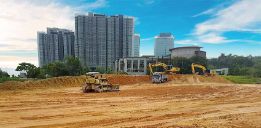 Area - 583.0 SqMt., for Sale in Sector 83, Noida   Property Type - Industrial
Selected Properties
Industrial Properties in Noida
The kind of progress that Noida has attained in previous decades is unimaginable. It has not only attracted investors from all over India but has also been able to lure firms and companies which are acknowledged globally. It has ascended to newer heights in almost all parameters of progress. The city now houses world-class facilities and is a hotspot of opportunities.

What's special about Noida?
Noida has emerged as a city of dreamers and almost every corner of the city has got enormous growth potential. If you are aware of the financial and business environment of the country, you would be in a situation to tell yourself where the real estate business in Noida is headed to.

What's the deal?
We have come up with an industrial building for sale in sector 83 Noida. The deal is the best due to the location it is situated in. Sector 83 in itself is a mini Noida and therefore almost all facilities are just minutes away from an industrial building in sector 83 Noida. It is well connected to other parts of the National Capital Region and thus the logistics part is settled here. 

What about the location? 
The area is safe, and cleanliness and pollution curbing measures are a regular exercise here. Given the northward trend of growth in Noida the early, you invest in industrial property in sector 83 Noida the early you will attain success. 

How to access the industrial property in sector 83 Noida deal? 
If you have made up your mind to buy industrial property in Noida sector 83, your half job is done already. Buniyad is at your service and thus you don't need to worry about the other half either. Along with industrial property for sale in Noida sector 83, Buniyad has also selected the best residential properties for you in Gurgaon.  
  
 
Direct Links
Useful links to search properties in Noida
SERVICES
BUY INDUSTRIAL PROPERTY
LEASE INDUSTRIAL PROPERTY
PRE LEASE INDUSTRIAL PROPERTY