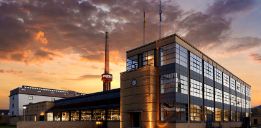 Area - 935.0 SqMt., for Sale in Sector 58, Noida   Property Type - Industrial
Selected Properties
Industrial Properties in Noida
The emergence of Noida as one of the prime locations for investment is a well-established fact. The city is well-equipped with world-class facilities and thus it offers a strong case for any investment to be made. The city is a convergence of different cultures and as a result of that, it houses the best kind of talent. Any smart investor who is aware of the nitty-gritty of business keeps Noida at the top of the priority list as far as doing business is concerned.
The city has got seamless transport facilities with New Delhi just minutes away from here. From world-class metro to congestion-free roads, the reasons are innumerable to invest in Noida. Other aspects like cleanliness, safety, pollution have also been meticulously taken care of by the authorities. If your desire is to take the first step in building a business empire of your own in Noida, we have got the best industrial building for sale in sector 58 Noida. These industrial areas come with the assurance of great return on investment in the upcoming days.
The industrial Property in Sec 58 Noida is located in a very business-friendly area that has got enormous growth potential. If you buy industrial property in Noida sector 58, you are destined for success in whatever business you plan. Our team of experts has done an extensive research to be able to come up with industrial building in sector 58 Noida. Along with industrial property for sale in Noida sector 58, Buniyad has also got the best
residential houses and villas in Greater Kailash
, Saket, and other prominent parts of Delhi. If you plan to buy them, Buniyad is a go-to option for you.
Direct Links
Useful links to search properties in Noida
SERVICES
BUY INDUSTRIAL PROPERTY
LEASE INDUSTRIAL PROPERTY
PRE LEASE INDUSTRIAL PROPERTY