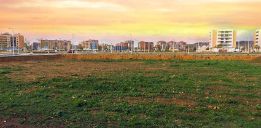 Area - 3200.0 SqMt., for Sale in Sector 140, Noida   Property Type - Industrial
Area - 2100.0 SqMt., for Sale in Sector 140, Noida   Property Type - Industrial
Selected Properties
Industrial Properties in Noida
Noida has grown magnificently in the last few decades. The city has been attracting investments from innumerable firms and companies. Reputed global brands have found Noida worthy of their investments thus Noida keeps on boosting investors' sentiment. Domestic investors too have put Noida at the top of their priority list when it comes to opting for a business location. Any investment made in Noida today is a guarantee of success tomorrow as the city has huge growth potential yet to be realized.

What makes Industrial Building For Sale In Sector 140 Noida highly demanded?
The industrial property in sector 140 Noida becomes a deal worth grabbing due to various reasons. One of the strong reasons for investing in this property is the location in which it is located. Sector 140 is a prime location in Noida with all sorts of modern facilities already available here. The sector is well-connected to other parts of the National Capital Region through a seamless network of wider and congestion-free roads. All these positives thus make the deal of industrial building in sector 140 Noida irresistible.

About The Deal
If you are also one of the dreamers, and a smart investor of course, who wants to take the wise decision of investing in Noida, we have got a very reasonable deal for you. We have listed industrial buildings for sale in sector 140 Noida.

Buniyad: Your Real Estate Partner
If you wish to buy industrial property in Noida sector 140, Buniyad is the most suitable option for you. Not only industrial property for sale in Noida sector 140, but Buniyad has also picked the best residential properties in Noida. With an impeccable record in the real estate sector, Buniyad is adjudged as one of the top websites for activities related to the sale and purchase of properties in Delhi NCR.
 
Direct Links
Useful links to search properties in Noida
SERVICES
BUY INDUSTRIAL PROPERTY
LEASE INDUSTRIAL PROPERTY
PRE LEASE INDUSTRIAL PROPERTY