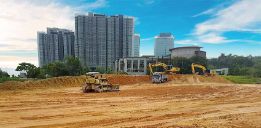 Area - 583.0 SqMt., for Sale in Sector 83, Noida   Property Type - Industrial
Selected Properties
industrial Properties in Noida
Noida has done wonders in the financial and economic sectors and thus has registered itself among the top investment destinations in the country. The city has attracted enormous investment from investors all over India. Investors of global repute have also sought opportunities to invest in Noida. The city has seen a tremendous upsurge in terms of development and has got a reckoning among other investment destinations worldwide. 

Why should you consider Noida for investment?
The city has got seamless transport facilities with the metro acting as a cherry on the top of the cake. Almost all the locations in Noida are just minutes from other major investment hotspots of the National Capital Region. Equipped with world-class facilities, the city has ramped up its ease of doing business index, and therefore investments in the last some years have speeded up like never before.

Where to find the best Deal Of Authority Plots In Noida Extension Sector 83? 
We have come up with authority plots in Noida extension sector 83. The Noida extension sector 83 is a location that is booming with investments and huge growth potential is yet to be realised in the particular sector. Noida's best shopping complexes to best hospitals are located here. Any investment made in plots in sector 83 Noida extension is a guarantee of huge returns. The sector 83 Noida extension plots are located just minutes away from the local metro station and thus New Delhi can be reached in a fraction of an hour if needed.

Buniyad
We here at Buniyad do extensive ground research and come up with the best properties like the industrial plot in Noida sector 83. Along with industrial land for sale in sector 83 Noida, we have also listed top residential properties in Greater Noida. To make them your own, just pay a visit to our website.
 
Direct Links
Useful links to search properties in Noida
SERVICES
BUY INDUSTRIAL PROPERTY
LEASE INDUSTRIAL PROPERTY
PRE LEASE INDUSTRIAL PROPERTY