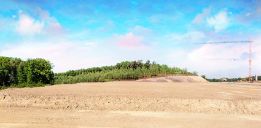 Area - 416.0 SqMt., for Sale in Sector 65, Noida   Property Type - Industrial
Selected Properties
Industrial Plot Properties In Sector 65 Noida
Noida is one of the top locations that has emerged as an investment hotspot in the country. Equipped with world-class facilities, the city presents a very strong case to invest in. Any consideration to initiate business in Noida is bound to prove beneficial as the city is a convergence of different cultures and classes, and all the essential ingredients of setting up a business can be available here.

Connectivity
Noida has got seamless connectivity as it has world-class metro and congestion-free roads. Any area in Noida can be accessed from any part of the National Capital Region within minutes.

Other Factors
Along with seamless transportation facilities, the city has done exceedingly well in terms of curbing pollution, ensuring safety, and creating a business-friendly environment.

About the property
The property under consideration is authority plots in Noida extension sector 65. The plots in sector 65 Noida extension have been listed by sheer research and groundwork on the part of a dedicated team at Buniyad. The industrial land for sale in sector 65 Noida is one the best deals that you will come across in today's time.

Location
Noida extension sector 65 is a popular locality and has got huge growth prospects. The area is inhabited by people belonging to different backgrounds and thus businesses have all the chance to prosper here. Any investment made in the industrial plot in Noida sector 65 is a guarantee of success and every smart investor would look forward to grabbing the opportunity.

About Buniyad
Along with sector 65 Noida extension plots, we here at Buniyad have also listed top residential properties in Greater Noida. To book these properties, you just need to visit our website. Buniyad has an impeccable record of bringing the best properties to you. Buniyad also extends its help in documentation and other processes related to the deal.
 
 
Direct Links
Useful links to search properties in Noida
SERVICES
BUY INDUSTRIAL PROPERTY
LEASE INDUSTRIAL PROPERTY
PRE LEASE INDUSTRIAL PROPERTY